Miami has so much to offer – that is if you can ever get away from the world's most beautiful beaches. Explore Miami's top sites on a bike, Segway, boat, or by foot. Whatever your preference is you will have a great time with Bike and Roll – our guided tours are entertaining, informative, and fun. For a complete list of what's going on now in Miami visit Greater Miami Convention and Visitor Bureau (GMCVB). 
  305.604.0001  |    info@bikemiami.com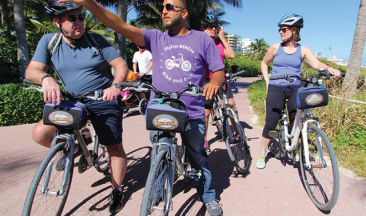 Staff & Tour Guides
To be the best, you have to work with the best! Bike and Roll staff members are courteous, knowledgeable, and always willing to make your experience perfect.
Bike and Roll is a locally owned and operated family business.