Join the Bike and Roll Miami Team and Tour Miami's top sites on a Segway, bicycle or on foot but let's be real — looking for things to do in Miami Beach is easier on a bike! On our tour's, enjoy the sunshine and the ocean breeze with friends and family and our experienced tour guides, whether you're looking for entertaining, informative, or just plain fun time. Follow our tour guides and bike from South Beach to Wynwood, Tour Little Havana and Key Biscayne, and Explore Coconut Grove, Design District and all the neighborhoods in between.
All

Bike Tours

Segway Tours

Downtown Tours

Miami Beach Tours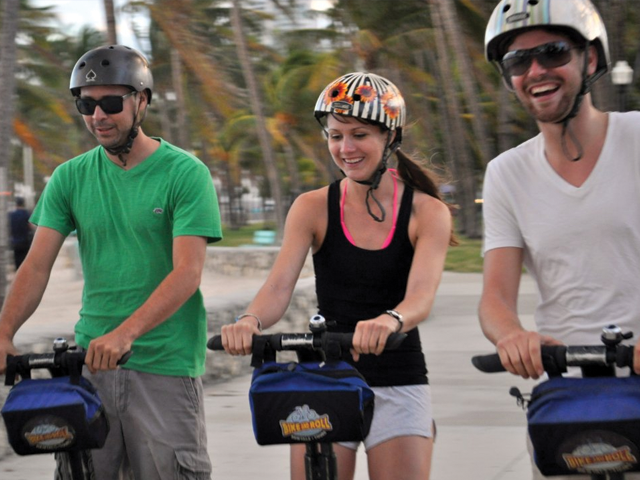 Segway through glamorous South Beach (the "American Riviera") and experience a tropical paradise! You'll discover legendary landmarks like the Versace Mansion, the vibrant Lincoln Road outdoor mall, and the famous Art Deco District – a delightful glide rich in architecture, history, and culture. The best way to see Miami Beach!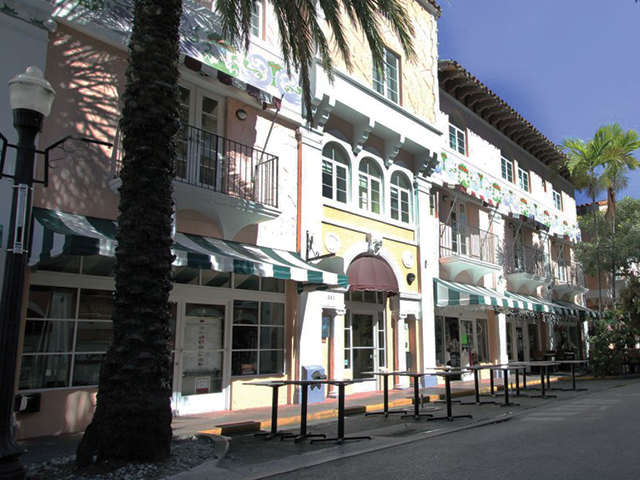 Sunrise & Sunset Segway Tour
Sunrise & Sunset Segway Tour
Join us for the Sunrise or Sunset Segway Tour, the perfect way to cool off and kickstart the day or night. You'll enjoy a tranquil glide around South Beach and South Point, with spectacular views and a glorious Miami sunrise or sunset.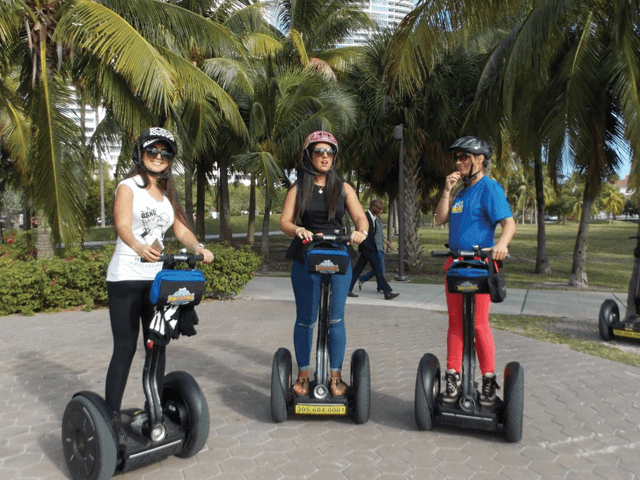 South Beach Segway Glides
South Beach Segway Glides
Our hourly Segway glides offer a unique view of the island that most tourists never see. Visit the museum and park district on quiet roads with a vibrant Art Deco flair! Stop in and get going!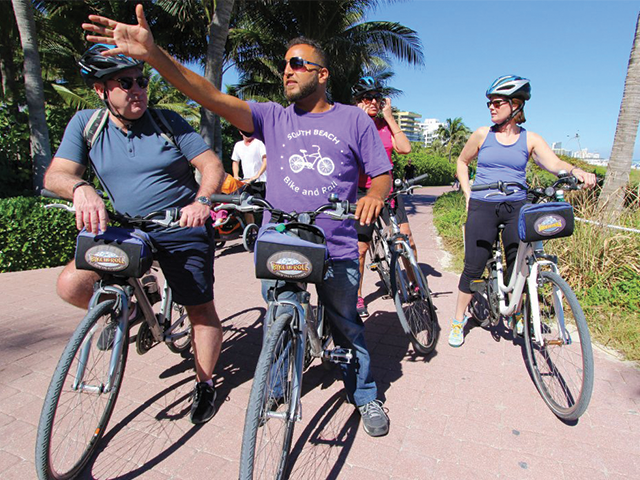 Miami Beach is a "Biking Town", and there's no better way to experience this beautiful city than from a bike! Join a professional guide for an entertaining adventure, learn a thing or two about local history and architecture, and interact with the global Miami scene. A great way to get the inside scoop on Miami hot spots.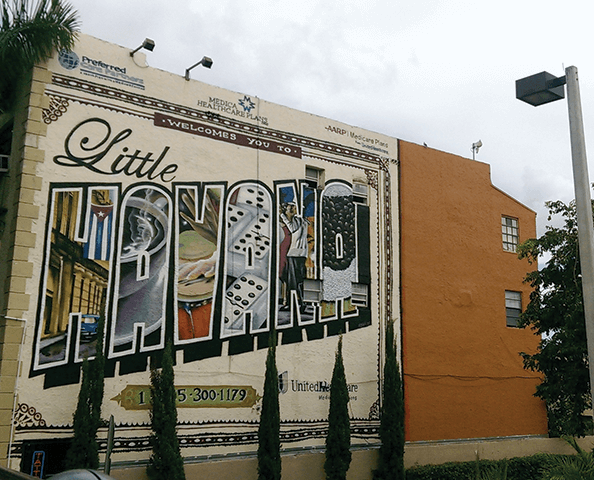 Taste of Little Havana Bicycle Tour
Taste of Little Havana Bicycle Tour
Miami's sizable Cuban population has a tremendous cultural impact on South Florida, and nowhere more than in the heart of Little Havana. The Tour will sample the fresh, homemade flavors of family run Cuban restaurants. Visit the Freedom Tower and  Cigar Factory.  Experience the vibrant Cuban heritage of Miami.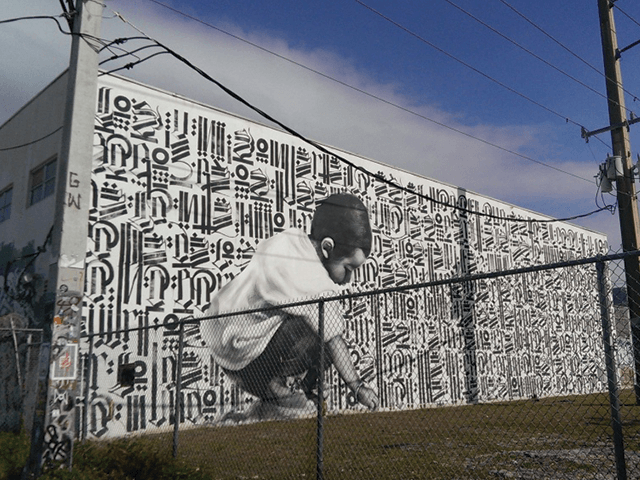 Discover the enchanting street art of Miami's Wynwood district. What was once a bland industrial area is now home to famous art galleries and stunning public art displays. You'll learn about the world-renowned street artists, their eclectic styles, and how they unite to create collective masterpieces of urban art.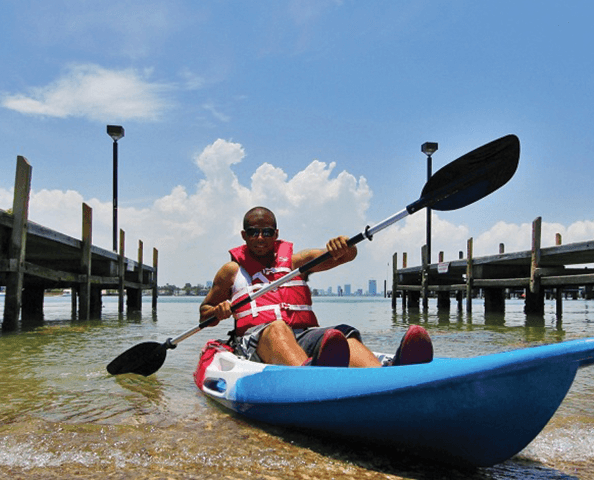 Are you someone who appreciates nature and wants to enjoy some fun in the sun? Then join us for this dual sport adventure! We'll take a short bike ride to the peaceful edge of Biscayne Bay, where you'll hop in a kayak and paddle through the calm, warm, aquamarine waters of Miami Beach. Great outdoor fun, a must-do tour!
Terms & Conditions
In using this website, reserving products/services, purchasing products/services, and providing information, you are deemed to have read and agreed to the following terms and conditions:
Participants must read and sign the Release from Liability Agreement prior to rental/tour.
A credit card and/or valid driver license or passport is required for rental deposit.
Helmets and locks are provided for free with rental. Helmets are recommended for all riders.
Participants under the age of 18 must wear a helmet!
All Segway Participants must wear a helmet.
Segway Participants must be 12 years old or older and between 100 and 265 pounds, pregnant women are not allowed to ride a Segway.
Participants must be in good health, and able to operate, control and balance the equipment, at time of rental.
Please consult your physician.
Baby participants must be at least 1 year old and be able to hold their head and upper body in an upward position and be able to wear a helmet.
Participants are responsible for the rental equipment, from the time the equipment is rented until the time it is returned, including damage and theft of rental equipment.
Rental equipment is due back on the date/time printed on the Rental Receipt.
Late returns are subject to overtime charges and late fees.
Participants must inform Company if the equipment is damaged or not working properly.
Participants must comply with all traffic laws and ride with caution.
We accept all major credit cards, cash, and traveler's checks for payment.

Full payment is required to make a segway tour or bicycle tour reservation. Failure to arrive at tour departure location prior to scheduled time without advance notification (no-show) results in forfeiture of payment.

Failure to cancel / reschedule tour reservation(s) at least 72 hours in advance results in forfeiture of payment.

All pre-payments for rentals and/or tours are final and non-refundable, no credit on early returns! No Refunds!

Late returns are subject to additional charges and late fees.
Non-returns or missing parts are subject to costs for replacement of equipment/parts.

Damaged equipment are subject to repair costs In the event of rain you may re-schedule your reservation or receive a store credit.

To cancel a reservation and receive a store credit or refund you must submit a written request via email to info@bikemiami.com 72 hours prior to reservation date/time. Refunds may take up to 30 days from cancelation date/time.
Privacy Policy
Please read carefully before using this site. This site is owned and operated by Bike and Roll Miami LLC together with its subsidiaries and affiliates (collectively "We", "Us" or "Our"). By using this site, you signify your agreement to the Privacy Policy and Terms of Use. If you do not agree with these terms, please do not use this site. We reserve the right, at Our discretion, to change, modify, add, or remove portions of these terms at any time. Please check periodically for changes. Your continued use of this site following the posting of changes to these terms will signify your acceptance of the revised terms. They were last updated on November 26, 2012
Your privacy on the Internet is important to Us. As a part of the operation of this site, We gather certain types of information about users. We want you to know the types of information We gather and what we do with it.
Information We Collect
We collect two general types of information from users: personal data (such as names and e-mail addresses); and aggregate data (such as information about traffic patterns on this site; for example, how many users log into this site on a daily basis).
Personal Data
Personal data is collected when users provide information to Us, for example in reserving bike rental/tour, or joining our riders club, electronic newsletters, or other membership services, group inquiries, employment applications, answering surveys, purchasing items from Us, registering for events, or purchasing tickets, and/or registering for contests and other promotional opportunities provided by Us. When you register or request information on this site, We generally need you to provide your name, e-mail address, mailing address, day phone number and credit card information (only when making a reservation), as well as create a username and password. In addition, if you send Us personal correspondence, such as e-mails or letters, We may collect such information into a file specific to you.
Aggregated Information and Usage Information
Aggregate information, such as which page users access and information volunteered by users, such as survey information and/or site registration information, is collected through various methods. In the course of using Our site, We also automatically track certain information about you. This information includes the URL that you just came from, which URL you next go to, what browser you are Using, and your IP address. An IP address is a number that is automatically assigned to your computer whenever you're surfing the web. Web servers, the computers that "serve up" web pages, automatically identify your computer by its IP address, and when you request a page from Us, Our servers log your IP address. We do not link IP addresses to anything personally identifiable, so although your session will be logged, you will remain anonymous to Us.
Use of Cookies
This site also uses "cookies" to collect information. A cookie is a small data file that most major websites write to your hard drive for record keeping purposes when you visit them. Cookies allow Us to measure activity on the various areas of this site and to improve your user experience, for example by remembering your passwords and viewing preferences, thus allowing you to visit various parts of this site without re-registering. Cookies are also Us to measure activity on the site and make improvements and updates based on which areas are popular and which are not. We do not use cookies to retrieve information from your computer that was not originally sent in a cookie. Please note: except for personal information provided by you, We do not use information transferred through cookies for any promotional or marketing purposes, nor is that information shared with any third parties whatsoever. You may occasionally get cookies from Our advertisers, which is standard in the internet industry. We do not control these cookies, and these cookies are not subject to this Privacy Policy.
Most browsers are initially set to accept cookies. If you would prefer, you can set yours to refuse cookies or to alert you when cookies are being sent. However, it is possible that some parts of a site, such as a member-only area and shopping, contest and game areas, will not function properly if you do so.
Use of Information Collected by Us
We use both the personal and aggregated and usage information We collect for multiple purposes. For example, We collect this information for fulfilling reservations, administering information requests and providing information services, tracking/verifying compliance with Our policies as well as federal, state and local laws, and for editorial and feedback solicitation purposes. We may use your e-mail address and, in rare situations, your mailing address or phone number, to contact you regarding customer service issues or billing matters. Personal and aggregated information is also used to: improve the content of the Store; perform system administration activities; customize the content and/or layout of the Store for each individual user; and notify users about updates to the Store or promotional offers or opportunities that We believe will be of interest to you. We will always try to provide you with an opportunity to decline this service when such information is requested from you online. If you later decide you would rather not receive this information, or would like to opt-out of any other information request or distribution, you may also update your account information on the applicable portion of this site or simply reply to any e-mail sent to you and type UNSUBSCRIBE as the subject of your reply or in the message of the e-mail. We may also use your information and activity on the site to resolve disputes, troubleshoot problems and enforce Our Terms of Use.
Disclosure of Collected Information to Third Parties
We do not sell, trade, rent or otherwise provide your personal data to third parties without prior permission from you, provided however, that third parties does not include Our subsidiaries, affiliates, licensees, partners, suppliers, industry related services, website hosting partners or other parties who assist Us in operating this site. We may, however, share your data in an aggregate format, as well as aggregate usage information, with third parties for both advertising and promotional purposes. Further, We cooperate with all law enforcement inquires, and with all third parties, to enforce their intellectual property or other legal rights.
Links to Other Sites
It is important to note that this site might contain links to other sites, and that those sites may not follow the same privacy policies as Us. For instance, if you clicked on an advertisement banner, this might take you away from this site and to an entirely different site. This includes links to advertisers, bicycle and Segway industry companies, content providers, and business partners, who may use Our name and/or logos as a result of a co-branding or other agreement. These sites may send their own cookies to you, and may collect data and make uses of it that We would not. We do not control these sites or use, or bear any responsibility or liability for them.