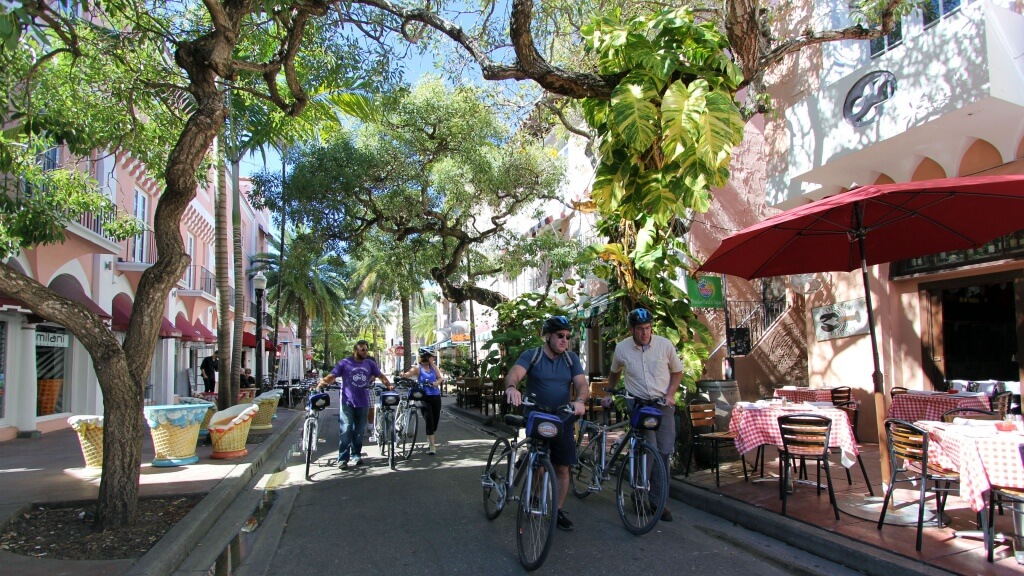 Miami Beach, a baby city of only 100 years of age (which we celebrated in quite a big way earlier this year!) is home to three different historical districts! The Art Deco Architectural District, of which we have all heard and which is probably the most famous. There's also the SoFi district — that's South of Fifth, and lastly and for the sake of this post, most importantly: the Espanola Way historical district.
So, when Miami Beach got its start, it was at first a coconut palm plantation that also boasted a few other fruits to its lineup. Proving unsuccessful, the area quickly converted to a line of hotels and high-end homes, becoming in effect the first resort-style town in the country. People were enticed by the wonderful weather and the stunning views; not to mention the fact that it was basically virgin land – as easy to mold as possible without the influence of too many land-owner or any anti-trust busting by the government.
Much of the original structures in the city borrowed a lot from European styles, in particular the Mediterranean – thus all the red clay roofs, arched windows, wrought iron. This style, known as Mediterranean Revival, is what we see most of in the Espanola Way District.
At its conception, Espanola way, the four square blocks from 14th to 15th St, in between Washington Ave and Pennsylvania Ave, was meant to be a spot for those looking for the nightlife — artists and dancers crowded the clubs here. Al Capone even has a rich history of gambling and especially of his prostitution ring in the area.
Thrive as it did for about 15 years, the depression did not do the district any favors. It fell into a deep decline and became quite crime-ridden until our Art Deco savior Barbara Capitman protested it be protected and designated a historical sight. In the last 15 years, the area has been home to international cuisine – from Gloria Estefan's cuban cuisine chain Havana 1957, to Mexican food, Italian, Spanish, French Moroccan.
It is definitely worth a visit if you're in Miami! Be sure to arrive as the sun is setting and the string lights on the palms turn on!